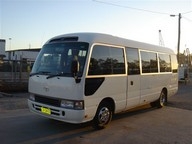 It is often said, quite correctly, that the main focus of any wedding day centers around the Bride and Groom.
That's why we offer a range of impeccable luxury limousines for wedding transport services.
However, it's sometimes overlooked that a wedding is often best remembered for the festivities that go on around it and that means thinking about the transport options for other guests.
If you are planning to get married and hold your reception at an out-of-town location, then transport may be an issue for many of your invitees. There may be elderly relatives involved who are no longer driving or others who would prefer to join in a few celebratory glasses of alcohol during the day rather than abstaining because of the drive home overhead afterwards.
So, why not consider our luxury coach hire services for the transport of your wedding party both to the service venue and to the subsequent reception? This may make it so much easier for people to attend and enjoy themselves than in situations where they were being expected to make their own way to and from some suburban or rural venues.
Of course, all of our coaches are super-luxury vehicles but that doesn't mean that they are prohibitively expensive to hire. In fact, in the overall scheme of the cost of your wedding, this may be a relatively minor expense given the benefits it will deliver to you and your guests.
A luxury coach doesn't have to be 60+ seat vehicle either. We have a variety of smaller people-mover vehicles and coaches to choose from that can accommodate from eight people upwards.
So, if you would like to think that you are taking care of your family and friends on your big day, why not call us for a discussion about our luxury coach hire services?
Contact our Friendly staff to hire limo in Sydney or Call 1300 720 254