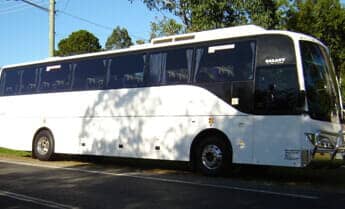 Following a recent comment from a visitor that they had "found it difficult to get employees to voluntary attend a company conference", we thought we would re-revisit a previous blog that's closely related to this subject.
It had its origins in the fact that we don't only provide luxury limousines. Sydney and elsewhere, we can also provide luxury coaches.
Company conferences
It is a sometimes painful fact of life that not all employees relish attending that periodic company conference.
In truth, there may be many reasons why that's the case. Some of them may have little or nothing to do with the subject we're about as discuss – group transport.
However, from our vast experience, we know that employees are sometimes less than enthusiastic about conferences for reasons that ARE related to transport.
Those reasons might include:
• It adds complexity to daily logistics in a situation where a family is using a single car for daily commuting purposes to different locations and suddenly a conference venue has popped into the frame too;
• Some conference centres are notoriously challenging to find parking in and around;
• When out of town conferences are held, the additional fuel and parking costs are sometimes left to be picked up by individual attendees;
Coaches offer multiple benefits
Many of the above problems simply disappear if the company concerned arranges luxury coach transport.
In doing so, there may be a number of other benefits that accrue:
• Employees see that their employer is taking their logistical comfort and convenience seriously;
• The idea of joining the coach at their normal place of work with their colleagues can engender an enhanced team spirit for the event;
• It's simply a lot less stressful for people than driving through sometimes busy traffic and over long distances to reach a conference venue. They are therefore likely to be fresher and more alert/able to contribute at the outset;
• To be blunt, it also reduces the scope for on-the-day excuses for not attending!
For all these reasons, we strongly recommend to any company organising a relatively local conference to actively consider luxury coach transport options in order to get their employees there. It might significantly improve your attendance statistics!