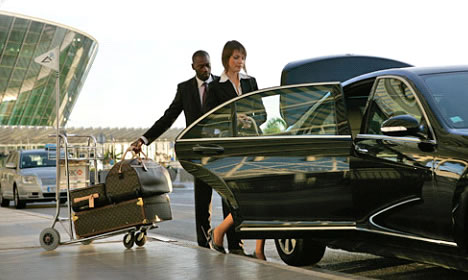 Almost every professional chauffeur will be able to tell you stories of how they've arrived to collect a client only to be shocked to find an entirely unexpected mountain of luggage is also 'waiting to go'.
Unlike some taxi drivers, professional limousine hire chauffeurs don't have any demarcation line 'hang-ups' about what it is or isn't their job to do. Providing it's possible and legal, if the client wants it then the chauffeur will 'make it so'.
So, it's not the effort that's the problem with excess luggage or attitude, it's really just a question of the physics of volume!
Space Distortion
Unlike in a notably famous TV Sci-Fi show with interiors larger than exteriors, a chauffeur can't squeeze more luggage, in cubic metres, into the boot than the boot can actually accommodate.
This can lead to embarrassment if nobody informed the chauffeur or limo hire driver that there was excessive luggage to transport. That's because in general terms, a typical executive limousine will be despatched on the assumption it is transporting a number of passengers up to the limit of its seating capacity plus 'normal' luggage.
What does 'normal' mean?
Take the Jaguar XJ for example. That has up to 520 litres of space in its boot. That's absolutely acres for a typical executive or two with briefcases and perhaps even some small travelling cases. However, if they arrive with several PCs and some audio-visual aids to take with them, well, there's likely to be a lot of head-scratching!
Obviously, some luxury road transport vehicles are bigger than others. The one you choose or your limo hire company chooses in conjunction with you, should be influenced in part by your luggage requirements. For example, a larger vehicle than the Jaguar XJ might be adequate in the above example.
Selecting the right vehicle of course assumes that you've notified the hire company in advance as to what you're planning to take with you!
Special Requirements
Sometimes, your requirements may be very special.
Consider say a sports club, travelling to an away match and they want to hire a luxury coach. Even though most such vehicles come with exceptional amounts of luggage space, it probably isn't worth taking the chance by 'hoping' that all your equipment will be able to be accommodated.
If you're taking training and physio machinery, medications and lots of spare kit, space can be eaten up and fast. In such circumstances though, it's perfectly possible to hire a trailer that can be towed behind the coach with your excess baggage and kit inside.
The same idea might involve hiring a separate van altogether to transport your larger items of sports equipment separately to you and the team in the coach. If you discuss your requirements in advance with your luxury coach hire provider, they'll be able to make all the appropriate arrangements.
The bottom line message is clear. If you're hiring a limousine or coach and you have a lot to transport with you, don't leave things until the last second. Outline your baggage needs and let the limo rental company work out some options for you.