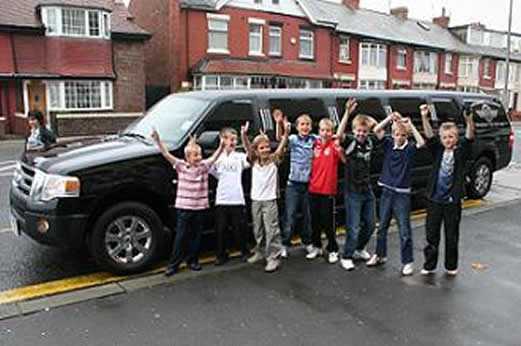 It goes without saying that children love luxury limousines!
If you try to think back to your own childhood and imagine what it would have been like to get into a vehicle such as a top of the range Jaguar, well, you might get some idea of the excitement that is involved.
We welcome customers of all ages but there are a few points we may wish to draw to your attention if you plan to include younger members in the party using a luxury limousine.
There may be certain legal and insurance requirements relating to the minimum ages of people sitting in front of the vehicle or the seating they may need when accommodated in the rear.
Children below a certain age must be accompanied by a responsible adult.
We do ask that parents or accompanying responsible adults take whatever steps are required in order to ensure that younger children are well behaved and stay safely seated at all times.
As you might imagine, we may have to decline to allow children to take certain types of toys with them into our vehicles. That might include things such as water pistols, open paints, painting pens or indeed anything else that might conceivably make a significant mess inside the limo.
When you are hiring limo cars in Sydney or elsewhere, we may need to reserve the right to refuse to allow children to consume certain types of foodstuff or liquids inside our vehicles. This is partly because of the risk of mess from of foodstuffs themselves and partly because of those infamously sensitive stomachs of younger travellers!
We are a family company and we certainly understand the importance of making our younger customers feel welcome.
If you are planning to include children in your trip, why not discuss your requirements with us in advance? We may be able to help you to select the most appropriate vehicle for the circumstances.