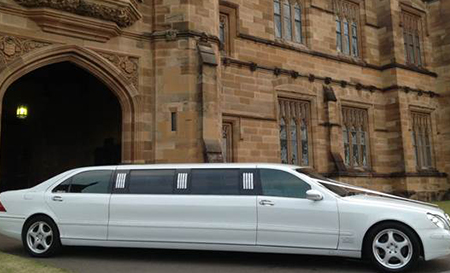 So, you're considering organising a day out for a few key colleagues and clients in or around Sydney.
How are you going to get them to wherever you're taking them?
You could abdicate all responsibility for that of course. Just give everyone the address and ask them to be there at a certain time.
However, if you're organising something you'll probably want to ensure it's a success – particularly if you have some business objectives related to it. Therefore, what you won't want to receive are ''rain check' phone calls from attendees on the day itself saying things like:
• they've decided it's too far to drive;
• they'd like to come but driving means they won't be able to have a few drinks and really join in;
• they've got car problems;
• they've no way of getting there because their car's being used by their partner or kids;
etc.
This is where using limo cars and buses in Sydney can help.
At Bayside Limousines, we can offer an entire fleet-based solution to help your special day happen.
For example, we can arrange a series of luxury limousines to collect your VIP guests from their homes and get them to your venue.
Alternatively, we can arrange for them to be collected and brought to a central point to board one of our exclusive luxury large coaches. Then at the end of the day, our cars can deliver them back to their home or business addresses.
In fact, there are a whole variety of other transport scenarios we can dovetail into your plans for that special event. Whatever it takes to get your people to and from the location, we can arrange it.
Keep in mind also that using limo cars and buses in Sydney can be surprisingly cost-effective and also do something to enhance the green credentials of your organisation.
However, there's no need to speculate. Why not just give us a call to discuss your plans and we'll be able to suggest a number of different options and costs for you.
We're here to take those transport worries off your hands!